QS SEAMASTER bOW THRUSTERS Born from over 25 years' experience in the pleasure boating industry made by two innovative companies (SAIM SpA and Quick SpA), the QS Seamaster bow and stern thrusters represent the most advanced range of products available on the market. A complete line of DC, AC, brushless DC-AC, retractable and hydraulic thrusters from 40 to 1100 Kgf thrust, available both with analogic or digital connection systems, on/off or proportional commands.DESIGNED FOR THE MOST DEMANDING YACHTSMAN,
DEVELOPED TOGETHER WITH BOATBUILDERS.
QS Seamaster has developed a complete and advanced line of DC, brushless, AC and hydraulic electric thrusters.
Designed by SAIM Marine, with almost thirty years of experience in supply, assistance, distribution and design of products and systems in the marine business, and built by Quick SPA, a manufacturer of high-tech systems, one of the main players in the nautical industry , manufacturer of innovative and reliable components.
As in the most famous and fascinating industrial collaborations, the aim of this cooperation is to respond to the ever-increasing demand for a technologically advanced product, with superior performance, but also for a sales, assistance and service network developed to offer an experience without stress in and to provide tailor-made solutions.
Built and designed entirely in Italy, the product range includes 40 to 1100 Kgf models for boats and yachts up to 150ft.
QS Seamaster thrusters are available in DC, AC, brushless DC-AC or hydraulic version, for tunnel installation. They are also available in DC version or hydraulic for retractable models.
TECHNICAL FEATURES
• High efficiency and powerful motors
• Ignition Protected version available (up to 80Kgf)
• Elastic joint with an exclusive design
• Bronze gear leg designed by Quick with a special hydrodynamic profile
• Low maintenance: gear leg guaranteed against oil leaking
• Easily replaceable aluminum anodic protection
• 4 and 5 blade propellers designed specifically to ensure maximum performance and efficiency from each motor.
Propellers made of special composite or in NiBrAl. All double propellers are counterrotating.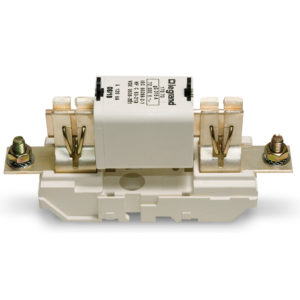 Max Power offers a range of calibrated fuses specifically selected model by model and tested to offer an increased level of protection over standard ANL fuses. Chosen taking into account each fuse's specific blow curve, Max Power fuses match the requirements of each thruster system.
| | | | | |
| --- | --- | --- | --- | --- |
| Code | Description | Model | Voltage | Amp |
| 312882 | Extraction handle | CT35/45 | CT60 | CT80 / C. Retract | CT60 / CT80 / C. Retract | CT100 / VIP150 | CT125 / VIP150 | CT165 / 225 | CT300 / 325 | 12V | 24V | 125 | 160 | 200 | 125 | 315 | 200 | 250 | 400 |
| 35017 | Fuse holder | CT35/45 | CT60 | CT80 / C. Retract | CT60 / CT80 / C. Retract | CT125 / VIP150 | 12V | 24V | |
| 35018 | Fuse holder | CT100 / VIP150 | CT165 / 225 | CT300 / 325 | 12V | 24V | 315 | 250 | 400 |
| 35019 | Fuse | CT60 | 12V | 160 |
| 35020 | Fuse | CT80 / C. Retract | 12V | 200 |
| 35021 | Fuse | CT35/45 | 12V | 125 |
| 35022 | Fuse | CT100 / VIP150 | 12V | 315 |
| 35027 | Fuse | CT165 / 225 | 24V | 250 |
| 35028 | Fuse | CT300 / 325 | 24V | 400 |
[yith_wcwl_add_to_wishlist]